By: SpygearGadgets
JUL 30
When you need a hidden camera that can hide in plain sight, the WiFi Bluetooth Speaker Hidden Camera is just the device you need.
Hidden inside this fully functional bluetooth speaker is a 1080P high definition color camera. The camera lens is completely hidden behind the face of the bluetooth speaker. There is no pinhole that would give away the fact there is a built in camera lens.
The camera connects to your WiFi wireless network in your home, apartment, dorm, office, or wherever you need video surveillance. Our free streaming app lets you easily set up and connect the camera. You'll then be able to live view your video feed from anywhere in the world.
Live Stream to Your Smartphone
Like all of our WiFi hidden cameras, the bluetooth speaker hidden camera connects to your existing WiFi network, just like your smartphone or laptop does. There is no complicated router configuration or port forwarding needed. Our WiFi cameras are easy to set up. Most people get them up and running in about 5-10 minutes. We include a detailed user manual, as well as a quick start guide, written by our product experts right here in the US.
Setting up the camera is simple with our free live streaming app. Just download the free app to your iPhone or Android device, scan the camera ID on the back of the camera, and you'll have the camera up and running in minutes.
Once the camera is connected to your WiFi network, you'll be able to monitor your live streaming hidden camera from anywhere in the world.
Dual Power Supply
The HC322w spy camera features two power supply options. Use the internal rechargeable battery power to get up to 5-6 hours of operation, perfect for short term use. For longer term use, or around-the-clock home security, plug into AC power. This allows the camera to operate 24/7 with no battery concerns.
Motion Detection/Activity Alerts
One of of the most popular features of this hidden camera is the ability to alert you if your camera detects motion or activity. This allows you to use it for home or office security, or just to let you know when your kids get home from school.
Setting up motion alerts is easy, and there are several adjustable settings, such as motion sensitivity, recording length, and recording mode (motion activated or continuous recording).
Learn more about setting up motion detection alerts on your WiFi hidden camera here.
Fully Functional Bluetooth Speaker
In addition to working as a hidden camera, the device also works as a regular bluetooth speaker as well! The bluetooth power button is on the side of the device, making turning on the bluetooth function simple. All of the hidden camera functions are hidden in the battery compartment, so even if someone picks this up they won't realize what it actually is.
Rotating Camera Lens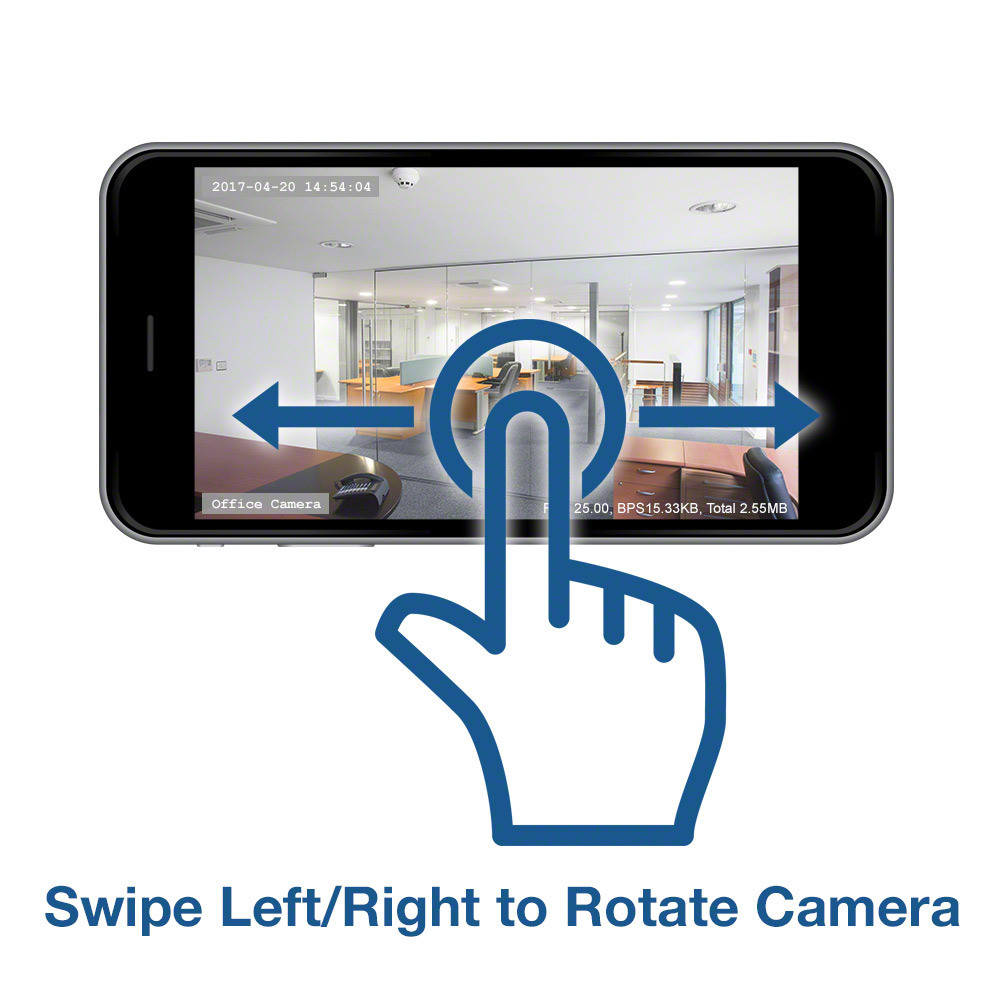 One unique feature of this hidden camera is its hidden rotating camera lens. The camera lens is hidden behind the housing of the bluetooth speaker, so there is no pinhole, making this camera very covert. Someone can pick it up and inspect it and they won't see any telltale signs the device is anything other than a camera.
To rotate the camera lens, simply swipe left or right on the live video. This will pan the camera left or right, up to a total of 180 degrees. This allows you to see more of the room than almost any other nanny cam can provide!
Night Vision Sensors
In addition to regular daytime recording, the HC322w also features invisible night vision sensors that allow the camera to see what's going on, even if the lights are out:
Mix and Match Cameras
If you have multiple rooms to monitor, you can mix and match the HC322w Bluetooth Speaker Hidden Camera with over two dozen of our other compatible WiFi hidden cameras, allowing you to mix and match, and view them all from the same streaming app. Just add them all to the app, even if the cameras are in different locations.
Summary
The HD Bluetooth hidden camera is an exciting new addition to our lineup of WiFi spy cameras, and with its ability to operate as a fully functional bluetooth speaker camera, the HC322w is the perfect addition to our ever-growing lineup of home surveillance cameras.
The HC322w is available now, click here to visit our store to learn more about this spy camera.