Hardwired Fleet Live GPS Tracking
The XT-100 is a live GPS tracking device that offers the fastest update speeds on the market. And with it's hardwired operation, it's perfectly suited for tracking fleet vehicles. The tracker is powered by the vehicle's battery, so there are never any batteries to charge.
With the XT-100 hardwired tracker, you can monitor your vehicle's location in real time - updated every 1, 5, or 10 seconds - faster than any other GPS tracker.
View your live GPS data on our live tracking portal, which you can view on any internet-connected computer or device. Everything is web-based so there's no software to install.
The tracking portal will let you set up real-time SMS text and email alerts, geo-fences, run historical reports, view up to 90 days of historical playback, and track up to 3000 vehicles under a single account. No other GPS system can give you all these features.
With the XT-100 you will get UNLIMITED tracking updates for only $29.95/month.
XT-100 Features and Benefits:
Simple 3-Wire Installation
The XT-100 is a hardwired tracker, so it requires a 3-wire installation to connect it to your vehicle for power. Installation takes less than 15 minutes, and you'll never have any battery life concerns to worry about.
The GPS tracking portal is web-based, so there's no software to install. Log in from any internet-connected computer or device with your username and password to view your live tracking information.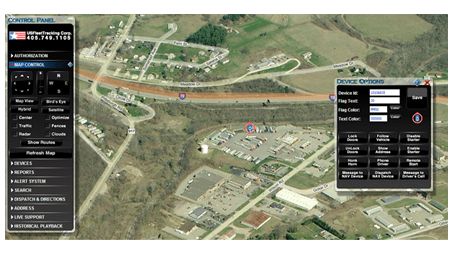 Some trackers claim to have "live" tracking, but only provide location updates every 1 to 5 MINUTES. A lot can happen in that time. With the XT-100 you can get 1, 5, or 10 SECOND updates - the fastest on the market.
Our easy to use tracking portal allows you to set up pre-determiend "geo fence" zones. This will allow you to get instant alerts every time a vehicle enters or leaves one of these zones. You can also run historical reports to see every time the vehicle has entered or left the zone in the last 90 days.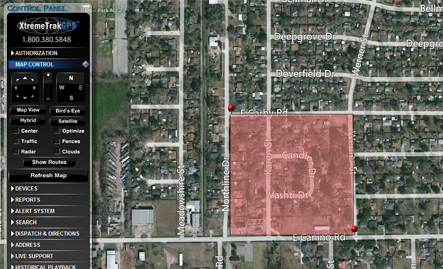 With our Route Planner tool, you can create specified routes for drivers to follow (such as a daily delivery route). Combined with our alert system, you can get instant alerts if the driver deviates from the predetermined route.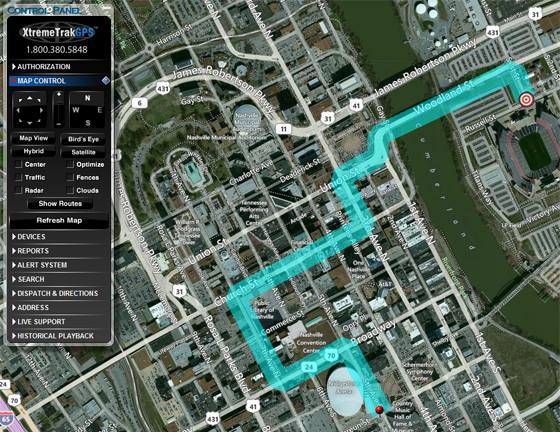 Set unlimited email or SMS text alerts so you get notified instantly when a vehicle exceeds a certain speed, deviates from a route, or enters/leaves a pre-determined geo-fence zone.
Smartphone/Tablet Compatible
In addition to logging in on your computer (PC or Mac), you can view your live tracking information from any smartphone - such as the iPhone, Blackberry, or Android devices. Also use your favorite tablet device - just log in with your username and password.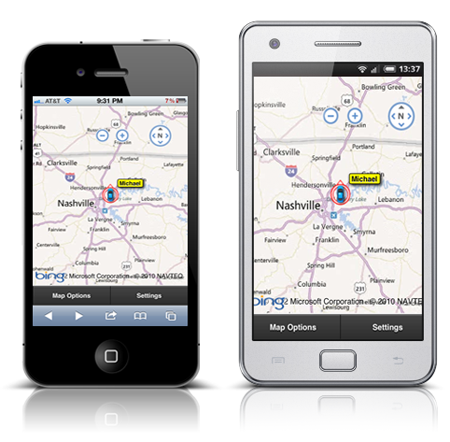 90 Days of Historical Playback
Your last 90 days of GPS data is automatically saved, so even if you didn't see it happen live, you can go back and see where a vehicle was at up to 3 months ago at the push of a button.
Printable Driving History Reports
Use the printable reporting feature to create custom reports about vehicle driving history from the last 3 months. Download the data to your computer, or easily email it in Excel or PDF format.
No Monthly Contracts or Commitments
Unlike many GPS trackers that lock you into a contract, our GPS service is month to month, and you can cancel at any time.
Popular Uses for the XT-100:
Teenage Drivers

If you have a new teen driver, or even a teenager who has been driving for years, you know that this group of drivers is at a much higher risk for accidents. With the XT-300, track their vehicle easily from any computer in the world.
Fleet and Company Vehicles

Whether you have a couple of delivery vehicles or a fleet of taxi cabs, the XT-300 is the perfect tracker. You can even track up to 3000 devices from a single screen, which allows you to easily keep an eye on all your vehicles.