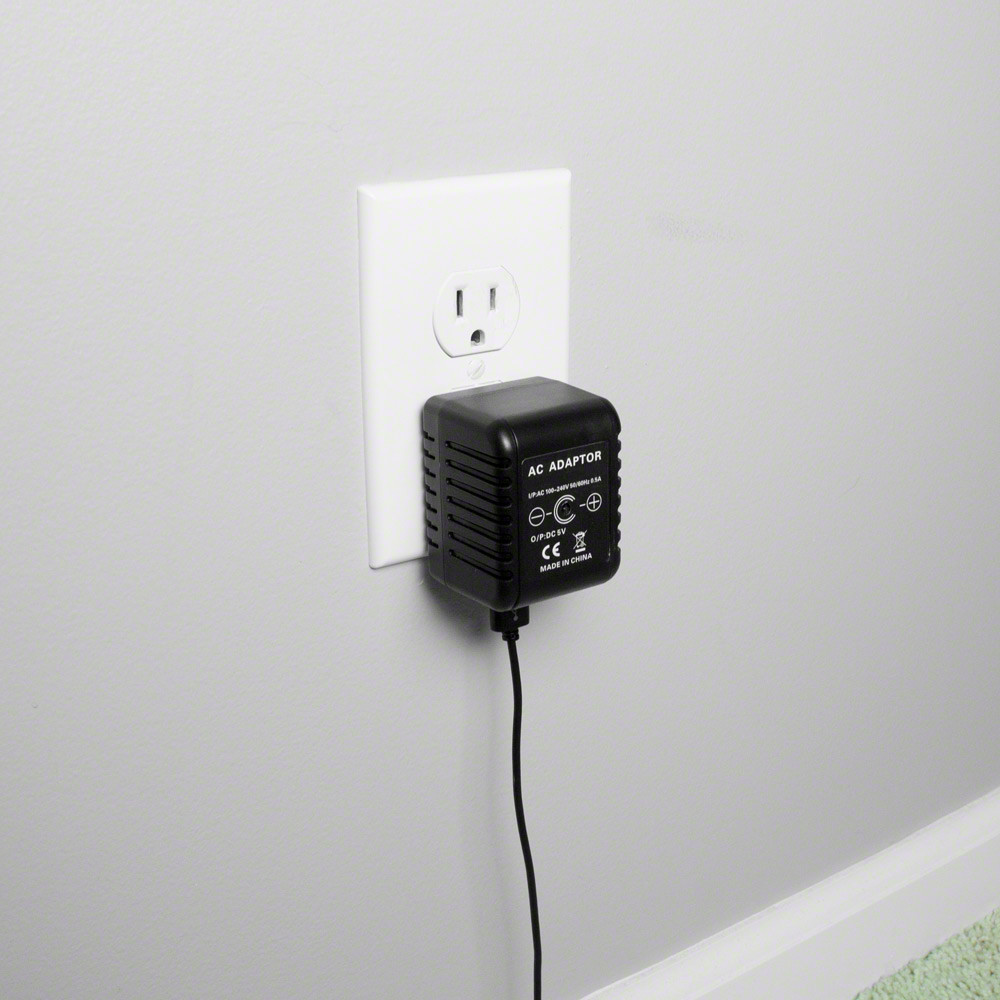 Easily Monitor Your Home or Office
Our popular AC adapter camera just got an upgrade, making it one of the most advanced and highest quality hidden cameras available. Not only does it work as a regular USB charger to charge your favorite device, it also records stunning 1080P HD video.
Setting up this camera is easy and only takes a couple minutes. Just remove the back cover and insert a memory card, and plug the camera into any standard wall outlet. Use the included remote to then turn the camera on, and select your recording mode - choose between motion activated recording, or 24/7 continuous recording.
Unlike other AC adapter cameras, this model features an upward viewing angle. This makes it ideal for using it on a floor-level outlet (as opposed to a counter-height outlet). It's 15 degree upward viewing angle will give you the perfect view of people walking by even just a few feet away!
And if your electrical outlet doesn't face exactly where you want to monitor, you can simply plug the adapter camera into an extension cord, and then point the camera wherever you need it.
Videos are recorded to a micro SD card up to 128GB in capacity, which can hold over 20 hours worth of video. To view your videos, simply insert the memory card into the card slot on your computer, or into the optional SD card reader. There is no special software needed for playback, and videos are both PC and Mac compatible.
Want to be able to view live streaming video? Check out the WiFi version of this adapter camera.
Product Overview and Sample Video Footage:
Popular Uses:
Home Security - Use the adapter camera to keep an eye on your home or apartment
Nanny Camera - Monitor your nanny or babysitter and ensure your children are properly cared for
Business Security - Investigate internal theft or simply ensure that employees are productive
Retail Security - Perfect for loss prevention or to investigate theft this camera blends in anywhere
Catch a Cheater - Investigate suspicions of possible infidelity by a spouse or a partner
Features and Benefits:
AC Powered Operation
Because the HC400 adapter hidden camera is AC powered, it draws power from a standard AC outlet and can therefore operate 24/7 with no battery concerns to worry about. Perfect for long term covert surveillance.
1080P Full HD Video
The AC adapter camera records in full 1080P HD video, which gives you the perfect view of any room in your home or office or wherever you need to covert surveillance. The high quality video lets you easily see what's going on when you aren't around.
Easy to Use
We've designed this nanny camera to be easy to use and ready to go out of the box. Simply insert a micro SD memory card, plug it into any standard AC power outlet (or extension cord), and use the included remote to turn the camera on.
Motion Activated Recording
By default the camera will record in motion detection mode, which means it will only record when activity is detected nearby, which saves on memory card space. You can also switch the camera to continuous mode so it records 24/7 regardless of motion.
Covert Operation
AC Adapters are so common that the device can blend in anywhere. There are no lights, beeps, sounds or any indications when the device is recording that would alert someone that the device is anything other than an AC adapter/wall charger.
Records to Micro SD Card
Videos are recorded to a micro SD card hidden inside the adapter (up to 128GB). Videos can be played back on PC and Mac - just remove the card and insert it into your computer's card slot. We recommend VLC Media Player for best playback performance.
Remote Control
With the included remote control you can easily turn the camera on or off at the push of a button. You'll also be able to select which recording mode for the camera to be in (motion activated or continuous recording) that best suits your particular recording needs.
Time/Date Stamp
The HC400 adapter hidden camera features an embedded time and date stamp on the video itself, so you'll be able to see exactly when your video files are recorded. This makes it perfect for evidence recording or just knowing when activity was detected.
Auto Overwrite / Loop Recording
The adapter camera also features auto overwrite mode which overwrites the oldest video files if the memory card fills up. This is helpful if you only want to check the footage if something happens and don't want to erase the videos manually every few days.
2 Year Warranty
We are so confident in the performance of this nanny camera that we offer an incredible 2 year limited product warranty as well as unlimited lifetime tech support from our technical support experts based right here in the US.