Even when the lights go out, you won't miss a moment of the action with the Sleuthgear Zone Shield™ Night Vision Alarm Clock Hidden Camera.
This covert hidden camera records in total 100% darkness thanks to the invisible IR night vision sensors hidden inside the alarm clock.
Unlike older models, these night vision sensors do not emit a red "glowing" light - they are truly invisible. There isn't even a pinhole on this clock - no one will ever suspect it's actually a camera.
Videos are recorded to a removable micro SD card up to 32GB in capacity. Whenever motion is detected, the camera will automatically start recording.
When you're ready to view your recorded video, you have two options. First - connect the clock directly to your TV with the included video cable and watch playback right on your TV - no computer needed.
The second method of playback is by removing the memory card and inserting it into your PC and using the secure video playback software to watch the recording.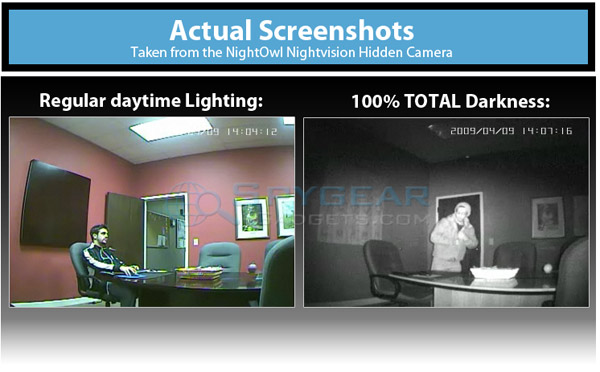 Popular Uses:
Homeowners - Find out what is going on at your home while you're at work
Parents - Ensure your nanny or babysitter takes good care of your children
Businesses and Offices - Protect business assets and employees with 24/7 monitoring
Retail Stores - Compliment existing security cameras with covert video surveillance
Roommates - Find out who is borrowing your favorite shirt or DVD
Features and Benefits:
AC Outlet Power
Powered by any standard AC outlet power for 24/7 use and operation
Night Vision Recording
Record in total darkness up to 20 feet away with invisible night vision sensors
Motion Activated Recording
Choose between motion activated (default) or continuous recording modes
Records to Micro SD
Videos are recorded to a micro SD card and playable on any Windows PC
Auto Overwrite Mode
Overwrites oldest files if memory card fills up so you don't miss a moment
Adjustable Settings
Adjust a dozen different settings to completely customize your recording
Playback on TV
No computer? No problem. Use included cables to view playback on your TV
Time and Date Stamp
Embedded time and date stamp shows exactly when videos are recorded
Optional Accessories:
Micro SD Card
Video files are saved to the Micro SD Card. The larger the card, the less often you'll need to delete files as the card fills up.
Included in the Box:
Zone Shield™ Hidden Alarm Clock Hidden Camera
IR Remote Control
4GB Micro SD Card
RCA Video Connection Cable
USB SD Card Reader
Instruction Manual
1 Year Warranty