Save $50 off the iTrail GPS Logger - Use Promo Code "ITRAIL50"
Product Compatibility
• Works with Windows XP, Vista, 7, 8
•
NOT Macintosh compatible
• USB 1.1 or 2.0 Compatible
The iTrail GPS Data Logger is the SMALLEST GPS data logger available. It easily fits in a backpack, car, purse, or anywhere that you need to track GPS location of your loved ones, employees, or fleet vehicles. The optional Magnetic Car Mount Case allows you to easily mount the iTrail under your car!
The iTrail is a passive GPS logging device, which means that the unit creates a historical log of your vehicle's driving history. To start logging, simply place the iTrail wherever you would like to track, press the power button, and the iTrail GPS Data Logger will start logging driving data whenever the unit is in motion.
When you are ready to view the driving history, connect the iTrail unit to your computer to view all of the driving data through Google Maps or Google Earth.
In addition to seeing the routes on a map, the custom report feature allows you to create and save printable driving reports in multiple formats, and even allows you to see if or when your vehicle has been speeding. With this powerful reporting process, you can even set "safe zones" or "restricted zones", so that when you run a report, you can see quickly if the vehicle has entered one of these areas.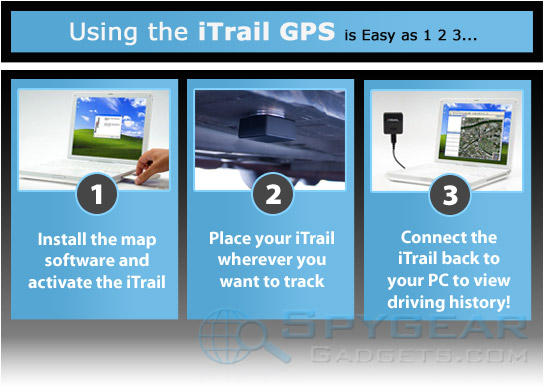 Popular Uses:
Parents - Find out exactly where your child is going after school, at night, or on weekends
Concerned Spouses - Find out where your significant other is going when they go out
Employers - Track company vehicle mileage/routes as well as monitor fleet vehicles
Investigators and Police - Covertly and easily track suspect vehicles
The iTrail GPS Data Logger Will Records:
The exact routes that the vehicle (or person walking) takes
Exact address of EVERY STOP the vehicle (or person) makes
Date and time of each route, and every stop made
Exact speed of the vehicle, including maximum speed (to determine if someone was speeding)
Features and Benefits:
Battery Powered
Get up to 30 days of operation on a single charge with the internal rechargeable battery.
No Monthly Fees
Unlike
live GPS tracking devices
, there are never any additional costs or monthly service fes.
Motion Activated
The iTrail GPS Logger powers up when your vehicle starts moving and sleeps when the vehicle stops.
Simple Operation
There is no complicated setup or configuration needed - just charge it up and it's ready to go.
Printable Driving Reports
Run vehicle history reports and get either simple or detailed reporting of all your vehicle's history.
Fast USB Download
Downloading and viewing your tracking data is quick and easy - just connect the iTrail via USB.
Internal Memory
All of your vehicle history data is saved to the internal memory (up to 120 hour capacity).
Weather Resistant
With the optional magnetic mount case the iTrail is weather resistant for under-vehicle use.
One Year Warranty
We stand behind what we sell - get a full one year warranty with the iTrail GPS Data Logger.
Lifetime Tech Support
If you ever have questions our technical support team is ready to answer any questions you have.
Included in the Box:
iTrail GPS Vehicle History Logger
Silicone Protective Case
USB Connection Cable
Installation CD
Instruction Manual
Legal Disclaimer: The iTrail GPS Logger can only be used to track a vehicle that you either own, or on which the user has given you permission to monitor or track. By purchasing and/or using this product, you agree that you have researched, and will comply with all local, state, and federal laws in your jurisdiction.