The XtremeTrakGPS XT-500 is one of the most full featured GPS tracking devices on the market.
With the XT-500, you'll get two devices in one. The first is a regular GPS navigation unit, allowing drivers to easily navigate wherever they need to go - perfect for service and delivery vehicles, taxis, limos, and more.
Built into the navigation device is real-time GPS tracking device too. You'll be able to track the device's location in real time from any internet-connected computer, smartphone, or even tablet.
The XT-500 also features 2-way driver communication, which allows dispatchers to communicate directly with drivers by sending messages right to the GPS screen. Drivers can also type responses that get sent back to the dispatcher.
And with the address dispatch feature, you can easily send addresses and directions right to the driver's navigation unit, making it perfect for service calls for all types of industries.
The XT-500 provides UNLIMITED GPS tracking updates for only $39.95/month - lower than any other tracker. Best of all, there are no long-term contracts to sign.
XT-500 Features and Benefits:
The XT-500 is easy to get up and running - just mount it to your windshield with the suction cup mount and plug in the cigarette lighter adapter and it's ready to go.
The XtremeTrakGPS tracking interface is completely web-based, so there is no software to install. Simply log in from any internet-connected computer, smartphone, or tablet with your username and password.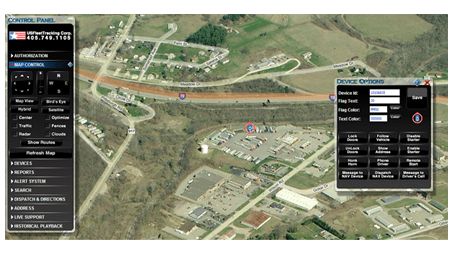 Many GPS trackers claim to have "live" tracking, but update only every 1, 5, or 10 MINUTES. A lot can happen in that time. The XT-500 features industry-leading 10-second updates so you never miss a moment of tracking.
Our tracking interface allows you to set up "geo fences" which are pre-determined areas on the map. You'll be able to get alerted instantly if the tracker enters or leaves one of these pre-set areas.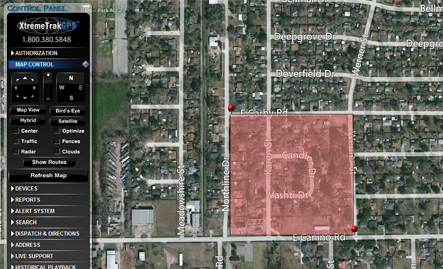 Create custom routes for your vehicles to travel, and get instantly alerted if a driver deviates from the assigned route.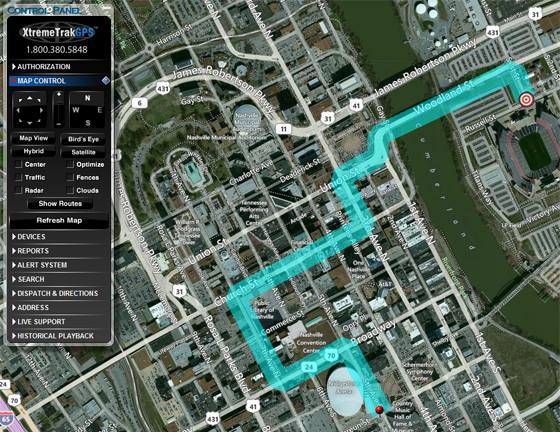 Get notified instantly by email or SMS text message if the tracker exceeds a certain speed, enters or leaves a pre-set area, .
2-Way Driver Communication
The XT-500 features 2-way driver communication. From the tracking portal, you can send a message to the driver's screen, and they can send a message right back.
In addition to 2-way communication, you can additionally dispatch an address right to the driver, making it easy to update routes and send directions right to the device.
Smartphone/Tablet Compatible
In addition to being able to locate your trackers through the web interface on your computer, you can also monitor locations right on your smartphone or tablet device.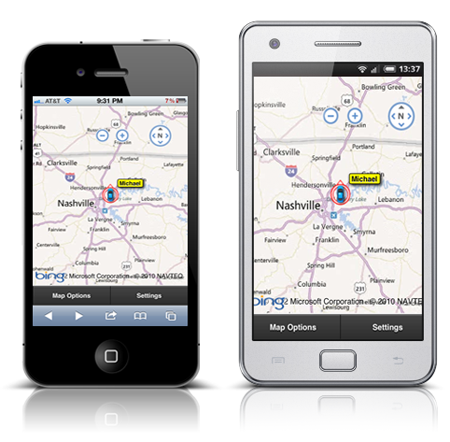 90 Days of Historical Playback
The last 90 days of GPS driving data are automatically saved to your account, so even if you can't watch it live, you can go back and see all the tracking data up to 3 months later.
Printable Driving History Reports
Create printable driving history reports including addresses visited and even vehicle speed. Save the reports to a spreadsheet format or to PDF to save, email, or print.
No Monthly Contracts or Commitments
We never lock you into service agreements or long-term contracts. Service is month-to-month and you can cancel your service if needed at any time.
Popular Uses for the XT-500:
Service Vehicles

If you have a fleet of service vehicles, dispatching drivers can be a hassle. With the XT-500 you can easily send addresses and locations right to the navigation screen making dispatch a breeze.
Company Vehicles

When company vehicles need both GPS navigation and GPS tracking, the XT-500 is the ideal device for the job. The driver gets real-time GPS navigation, and the company can keep track of all its vehicles.
Delivery Vehicles

The job of a delivery driver is never easy, and managing an entire fleet of delivery trucks is even harder With the XT-500 you can make both the driver's and dispatcher's life easier.

Included in the Box:
XtremeTrakGPS XT-500 GPS Navigation Unit and Live Tracking Device
USB Wall Charger
USB Connection Cable
Belt Clip
1 Year Warranty
Lifetime Technical Support