Product Compatibility
• Records to Micro SD (32GB max)
• Videos Can Be Played Back on Windows PCs or Directly on TV
•
Not Macintosh Compatible
Our popular line of self recording nanny cameras is now in its 3rd Generation! This latest generation features higher-resolution video, secure file playback, and advanced recording options not found on any other hidden cameras on the market!
The first thing that makes these cameras so popular is that there are no flashing lights, beeps, or any indications that this fully-functional cube alarm clock is actually a hidden camera.
Because this is a self-recording device, everything is built inside. Setting it up is simple - just insert a micro SD card (2GB card included), plug it into the wall, and it's ready to start recording!
You can also adjust advanced recording options for even more advanced control over your video recording. Choose between three recording modes: Motion-Detection, Continuous Recording, or Scheduled Recording.
Watching your recorded video is simple. You can either connect it directly to your TV to watach the video playback, or remove the micro SD memory card and watch the playback on your computer via the included secure playback software.
Popular Uses:
Parents - Monitor your babysitter to ensure they take proper care of your child
Homeowners - Protect your home against burglery or theft
Businesses and Stores - Monitor and record video in your business
Suspicious Spouses - Investigate possible signs of infidelity
Investigators and Law Enforcement - Gather the video evidence you need easily
Features and Benefits:
AC Outlet Power
Powered by any standard wall outlet so you'll never have battery life concerns to worry about.
Time/Date Stamp
Video has embedded time/date stamp so you know exactly when your video was recorded.
Motion Activated Video
Record either using motion-activated or continous recording modes so you never miss a moment.
Covert Design
There are no flashing lights or pinholes that would give away that this clock is actually a hidden camera.
Auto Overwrite Mode
Automatically overwrites the oldest files when memory card is full so you'll never miss a moment.
Records to Micro SD Card
Video is recorded to micro SD card (32GB max) so you can easily view playback on your PC.
Adjustable User Settings
Advanced DVR allows user adjustable recording options, sensitiity, video quality, frame rate and more.
Watch Directly on TV
Video output allows user to configure options and watch video playback directly on any television.

One Year Warranty
Built with pride in the USA and also comes with a full one-year manufacturer's warranty.
Free Lifetime Tech Support
Get technical support from our product experts Monday-Friday by phone, chat, or email.
Optional Accessories: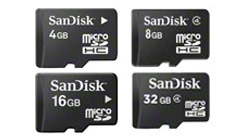 Micro SD Card
The Micro SD Memory Card is where the recorded video files are saved. The larger the card, the more videos you'll be able to store on the card at the same time.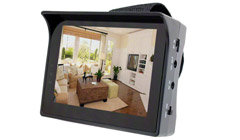 LCD Setup Monitor
With the setup monitor you can "live view" your camera's image, as well as adjust on-screen options, and even view playback on the go. Click here to learn more.
Included in the Box:
High Resolution Alarm Clock Hidden Camera
IR Remote Control
4GB Micro SD Card
RCA Video Connection Cable
USB SD Card Reader
Instruction Manual
1 Year Warranty
Lifetime Technical Support