Product Compatibility
• Compatible with Win XP, Vista, 7
•
NOT Macintosh compatible
• Must have Administrator/Install
rights in order to install on your PC
The Cobra SpyStick is a highly covert PC monitoring software that will allow you to record exactly what is going on your PC when you are not around. The Cobra SpyStick monitoring software runs in the background of your computer, and secretly logs EVERY keystroke, chat, web address, password, and anything that is typed onto the computer.
This new version also takes screenshots of the screen, so you can see exactly what has been displayed on your computer! Set it up to take screen shots at any desired time interval, or when a keyword you specify is typed. Want to take screenshots every time someone types in "facebook.com?" Simple with the Cobra SpyStick.
Who is using the Cobra SpyStick?
Parents - Find out who your kids are talking to on Facebook. Keep them safe!
Employers - Make sure that their employees are using their computers for work use only!
Concerned Spouses - Monitor your PC. Find out who your significant other is talking to.
Teachers and Schools - Make sure school computers aren't used for illicit purposes
Features and Benefits:
Log Every Keystroke - Passwords, Websites, Emails, and Chats
Capture Screenshots - Take exact pictures of the computer screen
Completely Invisible - No traces to let the computer user know activity is being monitored
Monitor Up to 5 PCs at Once - Monitor all your computers at one
Quick Installation - Takes less than 30 seconds to install
View Logged Data Anywhere - Take the data and view it anywhere at your convenience
Virtually Undetectable by 99% of all anti-virus programs

What makes Cobra SpyStick unique is that it does not need to be left plugged in to work. Just plug it in to start logging, and then remove the device and walk away.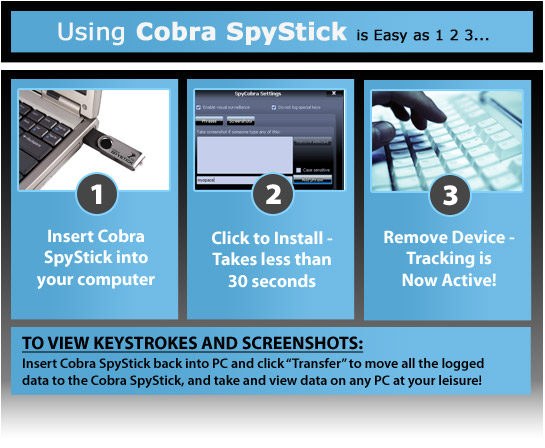 Retrieving Logged Data:
While the data is being logged and stored on the computer, the data is hidden and encrypted so that the computer user will not be able to stumble across it.
When you are ready to view the data, you can quickly transfer it all from the computer back to the Cobra SPYStick, and then view on any computer at your convenience - which comes in handy if you are monitoring your child's or employee's PC.
NOTE: You MUST have Administrator/Installation Rights on the PC you want to install the tracking software on, or you will not be able to install Cobra SPYStick.
Cobra SpyStick 2.0 (1GB Capacity)
Instruction Manual
Note: The Cobra SpyStick, along with all of our computer monitoring devices, are only to be used for legal and lawful purposes, and can only be installed on a computer that you own or that the owner has given you permission to install this software on. By purchasing or using this product, you agree that you will only use it where you have been lawfully authorized to do so.