Product Compatibility
• Records to Micro SD Card (32GB max)
• Play back video on PC or Mac
This new alarm clock hidden camera is just the item you need if you're looking for a covert nanny cam! It's small and portable (4 inches wide and 2.5 tall) so you can take it with you and place it anywhere!
The clock and alarm features all work just as you would expect a standard alarm clock to but this one has the support for up to 32GB Micro SD Cards and sports full color quality video. This newly upgraded unit now has the highest resolution in the market today at up to 640x480 resolution with full motion detection!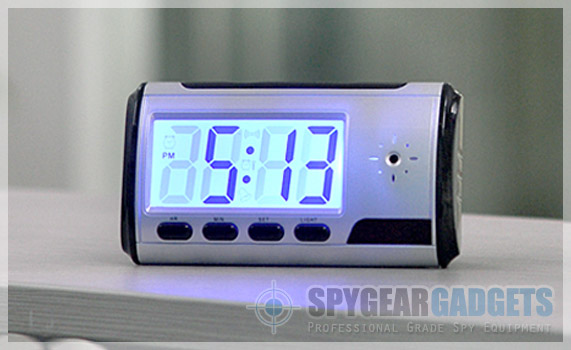 Product 360 View:
(Click and Drag Clock Image to Rotate)
Popular Uses:
Homeowners - Monitor your home while you are away
Parents - Keep track of your children when the babysitter or nanny is there
Executives - Make sure no one is going through your office
Travellers - Monitor your hotel room to make sure the maid doesn't take your stuff
Roommates - Find out if your roommate is taking the last cookie
Features and Benefits:
Battery Powered
Battery power means you'll never have any wires or cables to worry about. Battery lasts up to 10-12 hours on a single charge.
High Res Color Video
Record clear color video so you can see exactly what is going on when you aren't around.
Motion Activated Video
Motion detection video means you won't have any wasted video recordings. Can also record continuously.
Records to Micro SD Card
Use up to a massive 32GB card to capture over 12 hours of video on a single card. View video playback on PC or Mac.
Covert Design
Designed to be hidden in any environment. Perfect for the office, hotel rooms, or wherever you need covert video surveillance.
Includes Remote Control
Use the included remote to start/stop recording, take photos, and easily operate your hidden camera.
Included in the Box:
Mini Clock Camera Pro Hidden Camera
IR Remote Control
USB Connection Cable
Wall Charger
Instruction Manual